Winter Toppings
Below are some of the topping combinations I like during the winter months. At the bottom of the page is my tomato sauce recipe. Key there is using the best quality canned tomatoes you can find. I use Bianco di Napoli, which are avaiable nationally, but you should use what you like.
1. Margherita
Tomato Sauce
Mozzarella
Basil
Olive Oil

Top pizza with tomato sauce, and mozzarella. Drizzle with olive oil. Bake.
Top pizza with basil leave. Drizzle with olive oil and season with salt.
Serve.

2. Marinara with Anchovy
Tomato Sauce
Oregano
Garlic
Olive Oil
Best Quality Anchovies

Top pizza generously with tomato sauce, thinly sliced garlic, and a sprinkle of oregano. Drizzle with olive oil. Bake.
Drizzle with olive oil and add another sprinkle of oregano. Season lightly with salt.
Top with anchovies, one per slice.
Serve.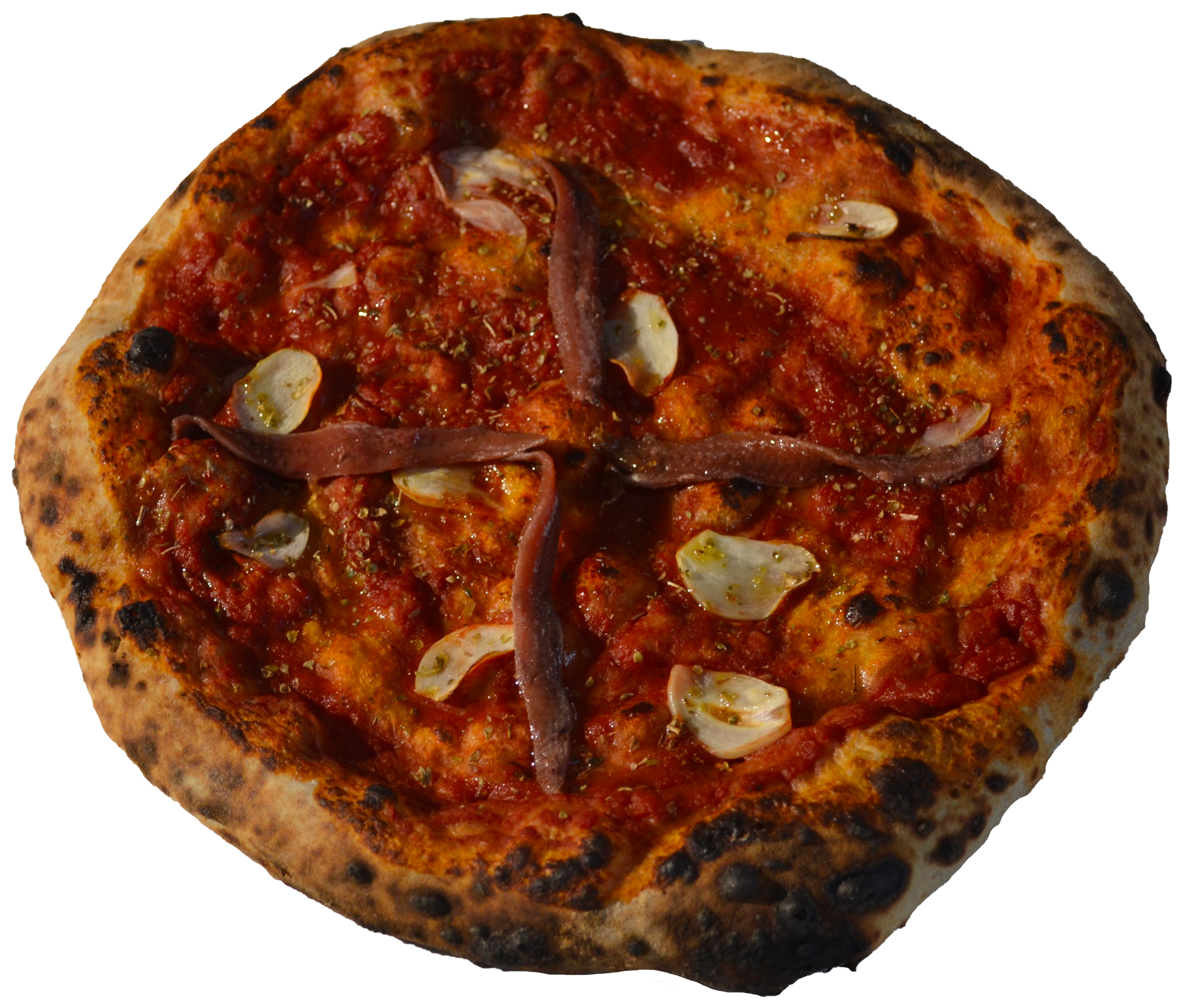 3. Potato Pie
Yukon Gold Potatoes
Bay Leaf
Fontina Cheese
Oregano
Lemon
Olive Oil

Bring the Yukon Gold potatoes to a boil over high heat in heavily salted water with the bay leaf. Reduce heat to a simmer and boil until fork tender. While the potatoes are still warm, remove their skins. Lightly mash them with a generous pour of olive oil. Season to taste.
Top pizza with shredded fontina cheese, followed by generous handfuls of crushed potatoes and a drizzle of olive oil.
After the bake, sprinkle oregano and squeeze lemon over the pizza. Drizzle with more olive oil. Season lightly with salt.
Serve.
4. Chicory Salad Pie
Radicchio
Endive
Mozzarella
Garlic
Olive Oil
Red Wine Vinegar
Anchovies
Parsley
Parmasean

Smash a clove of garlic and one or two anchovies under the side of your knife—or, alternatively, in a mortar and pestle—until homogenous and smooth. Add to a bowl and stir in some red wine vinegar. Next, emulsify in olive and season lightly with salt. Set aside.
Cut the radicchio and endive into manageable pieces. Set aside.
Top pizza with mozzarella, thinly sliced garlic and a good drizzle of olive oil and bake.
While the pizza is baking, toss the radicchio and endive with the dressing.
Cut the pizza and then top with the salad. Finish with parsley, grated parmesan, and a drizzle of olive oil.
Serve.
5. Sausage Pie
Tomato Sauce
Mild Italian Sausage
Mozzarella
Red Onion
Chili Oil
Pecorino Romano

Top pizza with tomato sauce, sausage, red onion, and mozzarella. Bake.
Finish with chili oil and pecorino.
Serve.
6. Greens Pie
Bitter Greens (e.g., Escarole, Mustard Greens, Chard, Brussels Sprout Leaves)
Mozzarella
Garlic
Anchovy
Red Wine Vinegar
Lemon
Pecorino
Olive Oil

Sautee bitter greens in a hot pan with olive oil. Once wilted slightly, season with red wine vinegar and salt.
Top pizza with mozzarella, thinly slice garlic, sauteed greens, and chopped anchovy. Bake.
Slice and then top with grated pecorino, a generous squeeze of lemon, and a drizzle of olive oil. Season with salt.
Serve.
7. Mortadella
Mortadella
Pistachios
Pickled Banana Peppers
Castelvetrano Olives
Parmesan
Mozzarella
Red Onion
Basil

Toast and finely chop pistachios. Mix with equal parts pickled peppers and smashed and pitted Castelvetrano olives. Add grated parmesan and loosen with a tablespoon of the pepper brine.
Top pizza with mozzarella, sliced red onion, and basil. Bake.
Top with the pistachio-pepper pesto and then cover the entire pizza with rounds of thinly sliced mortadella.
Serve.


________________________
Tomato Sauce Recipe
1 28 ounce Can Best Quality Whole Tomatoes
Garlic
Basil
Olive Oil
Sea Salt

Open and drain the excess liquid from the canned tomatoes. Pass through the medium screen of food mill.
Slice the garlic very thinly.
Add three thin slices of garlic, three leaves of basil—express the basil leaves by slamming them between your hands just prior to adding the,—and about one tablespoon of olive oil to the crushed tomatoes.
Season with salt.